The 15-needle HCD3E-X1501 is HAPPY's full-sized, heavy-duty commercial single-head embroidery. The HCD3E-X1501 is easily HAPPY's most capable single-head, with the largest sewing field, highest operating speeds and a heavy-duty drive system, enabling the machine to handle anything from delicate projects to heavy items to nonstop, year-round production.
• Intuitive Color Touch screen – easy to learn and operate!
• Big sewing power: 1200spm max speed, rated for 24 hour production
• Happy's largest continuous sewing field of 16.5″ x 47.5″ for amazing versatility.
• Ear to Ear Cap sewing field and optional specialty cap sewing frames.
• USB flash drive port: accepts various brands, sizes of USB flash memory sticks
• Built-in networking: control multiple Happy machines from 1 PC
• Very user-friendly customizable screen with built-in help, auto error correction
• Multi position arms accept a wide variety of Hoops and accessories.
• Easy design positioning with easy design trace, visual hoop maps
• Multilingual control panel .
• Brightly lit sewing area.
• Built in fonts and stock designs.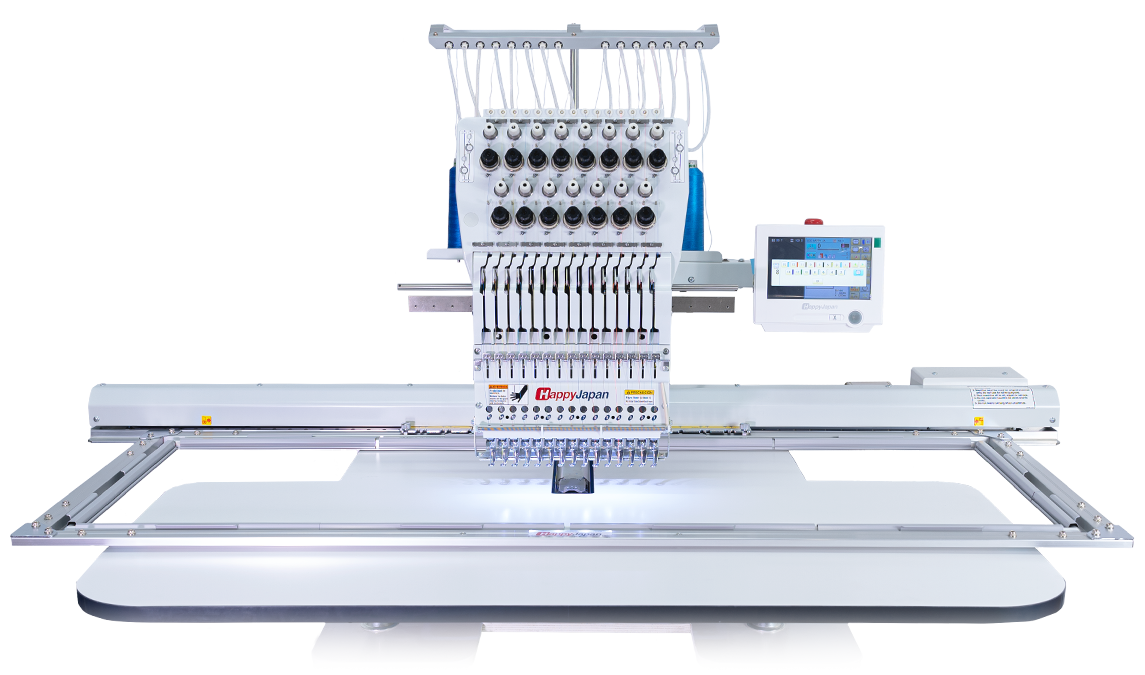 HAPPY PANEL
Combine logos and customize with lettering direct from the touchpanel
PORTS
2 USB ports, LAN, mouse & more.
Sewing Field: 12.5″ x 12.5″
Cap System: 2.6″ height and 290° rotation
INDEPENDENT BARS
Set speed for each needle independently.
AUTOCORRECT
for minor adjustments